Top performance in a nutshell.
More efficiency, less waste
The ModulMaster Pro from DOCERAM is setting standards in terms of quality, process reliability and efficiency.
The new welding device in the configuration N for nut welding and s for stud welding is compatible with almost every projection-welding machine in the automotive industry and can be precisely adapted to the respective performance requirements thanks to its modular design. Integrated threaded holes on three sides are also used for easy mounting of e.g. sensors for component sensing, component supports and more.
With the new design of centring pins, centring sleeves and change electrodes, extremely short retooling times can be achieved with the ModulMaster Pro.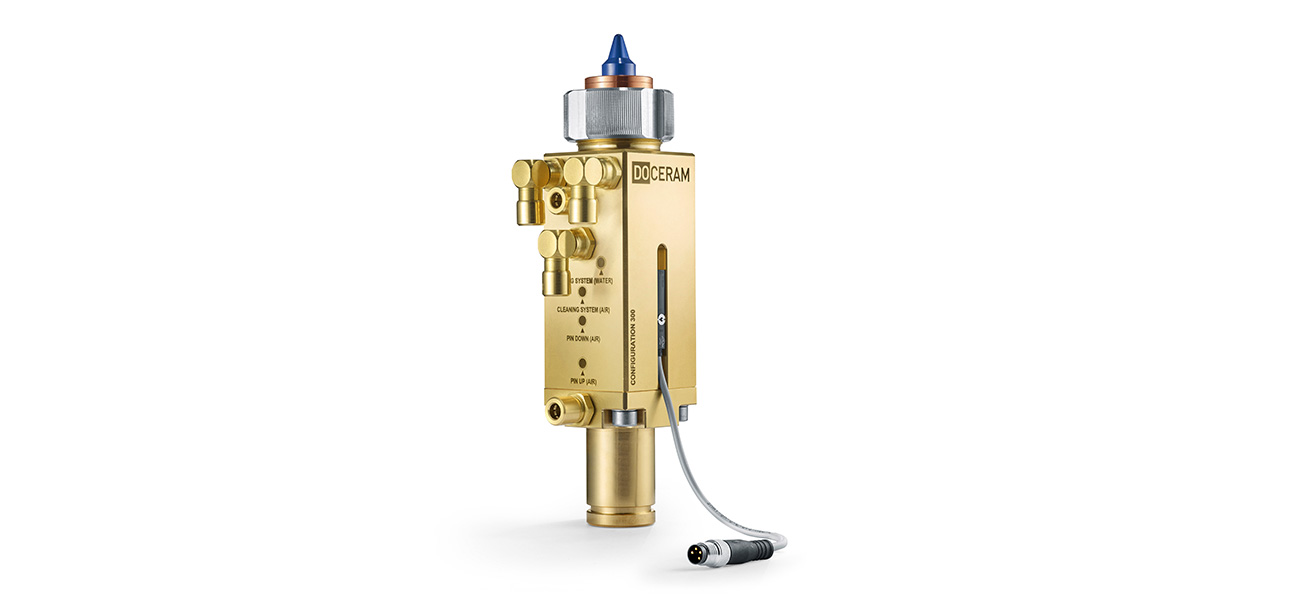 Completely retractable centring pin
Safe and fast change of components
A wide range of other handling options
Fast retooling
A pin mounting for centring pin sizes for weld nuts ranging from M4 to M12and 7/16" UNF
Mounting with a stainless steel union nut
Optimised operating safety
Water cooling with cooling holes directly on the device to minimise wear on the change electrode
High-quality metal hose connections for compressed air and water cooling
Integrated spring for automatic return of the pin to the starting position
Quality control before welding
Sensor-controlled real-time detection of the pin position
Now also available with the Doceram ModulMaster compact control system
High load capacity
Change electrode with a large support surface and contact area including marking for post-processing
Compact size
Large piston diameter 32 mm
Extended modularity
Free threaded holes, e.g. for sensors or component supports
Only ever hassle with projection welding?
What influence do the design and execution of the welding fixture have on the process?
In a changing world of work, companies have to deal with more and more technologies. To avoid costly mistakes in the process, technological know-how is also needed. Mechanical engineering can help users by developing machines and fixtures that hardly require any special knowledge for their daily operation. The following is an example of the solutions that can be used to achieve this in resistance projection welding.
Read the report "Only ever hassle with projection welding?" now!
The functional principle: intelligent sensor technology.
The top model brings the entire spectrum of the new DOCERAM welding device into the production process. The sensor technology integrated into the ModulMaster Pro Type N offers enhanced functionality through a precise position measuring system that detects a wide range of possible production errors in real-time.
The ModulMaster Pro welding device is equipped as standard with a Turck* analogue sensor. This sensor is characterised by the fact that it is not sensitive to external magnetic fields.
The ModulMaster Pro welding device can also be optionally equipped with a Balluff** digital sensor for easy end position detection.
A sequence control is required for the integration of the sensor technology. If your system does not have its own PLC, you will also find information about our CRU-2 compact control system in this brochure. This compact control system is compatible with all standard resistance welding machines.
Online configuration of your ModulMaster welding device
CAD portal for quick and easy integration into construction
The ModulMaster Pro welding device can also be configured online. All product variants are stored in our CAD portal – you can make adjustments quickly and easily by entering the parameters for your welding process.
Once the individual parameters have been defined, the set configuration can be downloaded as a CAD file in all common formats so that you can integrate it directly into your design.
Of course, you can still order the ModulMaster Pro welding device from us as usual by simply specifying the application parameters.
The extensive CAD portal includes the following DOCERAM products:
• ModulMaster welding devices
• Positioning and cylindrical pins
• Locating bolts
• Insulating sockets